Stories from Our Biosphere
Noosa Biosphere Day 2017 a celebration of 10 years
Due to unforeseen severe storm activity this event was cancelled and will be rescheduled to late 2018. Date to be advised.
This year marks the 10 year anniversary of Noosa's status as a biosphere reserve and to celebrate, Noosa Biosphere Day returns as a free community event on Monday 2 October.
Hosted by Noosa Community Biosphere Association with Noosa Biosphere Reserve Foundation, the family day out celebrates the community's achievements over the past 10 years and aspirations for our future.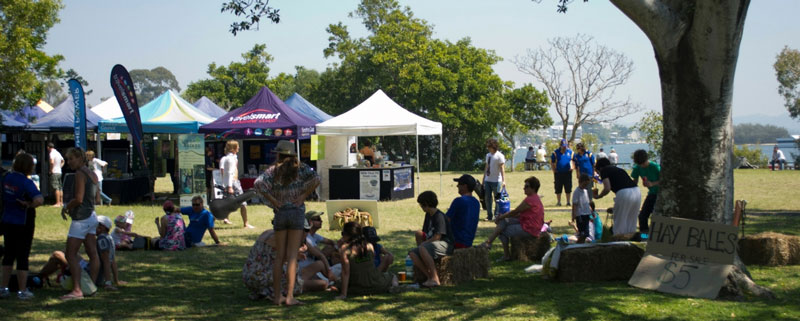 "Noosa Biosphere Day commemorates the significance of the global status handed down by UNESCO 10 years ago," says Annie Guthrie, president of NCBA.
"The day is to celebrate our unique relationship with this beautiful place we're so fortunate to call home.
"Bring the whole family and join us for a fun and educational plastic-free day out."
In 2007, Noosa was declared a UNESCO biosphere reserve recognising the relationship between people and nature.
Noosa Biosphere Day will be a fun day out with free music and stage entertainment, kids activities, interactive workshops, a river walk and clean up, food vendors, native animals, and Floating Land art display.
Dr Leah Barclay's Aurality App will offer an augmented reality with a biosphere soundscape audio experience dotted around Lions Park and Noosa River.
Local community groups and sustainable industries will be available to share information about the special qualities of our biosphere reserve.
"We will be making this day loads of fun but we also want to grow our understanding of what makes our biosphere reserve so special," says Ms Guthrie.
Noosa Biosphere Day will be held on the UN World Habitat Day, on the Queen's Birthday holiday, Monday 2 October at Noosaville Lions Park.
For more information, visit the Event page or stay updated on the Our Biosphere – Noosa Facebook page.
Become a Volunteer
Would you like to find out more about volunteering on projects working to support Our Biosphere? There are many great ways you can contribute, we're always looking for volunteers. Get in touch today!