Stories from Our Biosphere
River Clean Up Kicks Off Noosa Biosphere Day Celebrations
A joint Noosa River Clean Up will kick off festivities at the Noosa Biosphere Day community event on 2 October.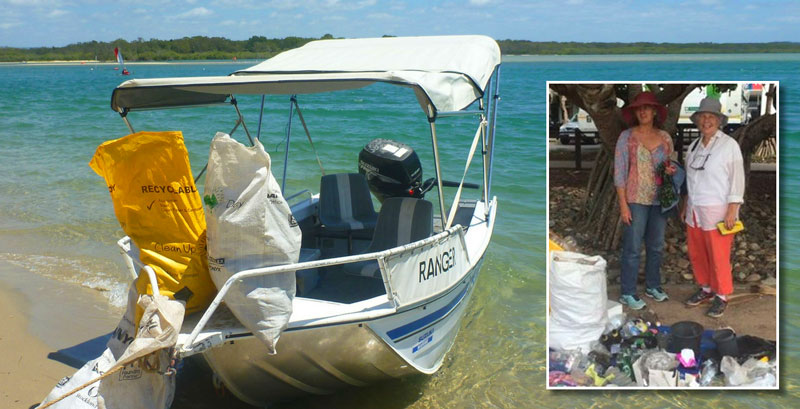 Noosa Community Biosphere Association volunteers have been cleaning Noosa beaches each month since March and in October will join Noosa Integrated Catchment Association's Marine Debris Flotilla, Surfrider and Noosa Divers to clean up the Noosa River.
"The litter from this special joint River Clean Up will be weighed, counted and reported to the Tangaroa Blue Australian Marine Debris Initiative database," said NCBA's Kylie Moses.
With a combined effort from NICA's weekly river clean ups, NCBA's monthly beach clean ups and Surfrider's 6-monthly Double Island Point clean ups, the three volunteer groups are making a big impact on keeping our waterways free of rubbish.
Last Saturday, volunteers came from all over the Shire to lend a helping hand at the Noosa Biosphere Beach Clean Up.
Paula Reynolds and Uli Odling from Cooran joined NCBA volunteers to clean up litter along the Peregian Beach dunes.
A recorded 21.5kg of litter was collected, sorted and counted, including 9kg of recyclable plastic and glass bottles that were a potential danger to beach goers.
"Over 50 plastic bags were found yesterday and many bag remnants," said Ms Moses.
"This tells us that people are taking items to the beach in plastic bags but not bringing their litter back to the bins."
Litter found from the monthly NCBA beach clean up events is weighed, sorted and reported to the AMDI database.
The data is used in preventing litter at its source, and will help in assessing the impact of the Plastic Bag Ban and Container Refund Scheme now passed in Parliament to be introduced in Queensland in July 2018.
Local campaigner, Toby Hutcheon says the new legislation is the most significant litter and plastic pollution reduction measure introduced into Queensland in generations.    "As long as all retailers comply with the ban and a World's Best Practice Container scheme is introduced, we expect litter and plastic pollution could be halved."
For more information, visit the Event page or stay updated on the Our Biosphere – Noosa Facebook page. See also Surfrider and NCBA Noosa River Beach Walk & Clean Up NICA Noosa River Marine Debris Flotilla Clean Up
Become a Volunteer
Would you like to find out more about volunteering on projects working to support Our Biosphere? There are many great ways you can contribute, we're always looking for volunteers. Get in touch today!